Trust the Refrigerator Repair Experts
Commercial Refrigerator repair serving Langhorne, Fairless Hills, Yardley, Newtown, Horsham, Warminster, Abington & surrounding areas
Commercial Refrigerator Repair Service in Bucks County
It doesn't matter if you run a food service business or have a successful bar, if your business relies on a commercial refrigerator and it's not working the way it should, you need a quick solution. Every second a commercial refrigerator is out of commission directly impacts your sales. Time is money in business, and this certainly holds true for all the businesses that use and rely on commercial refrigerators. If you are having issues with commercial refrigerators, our Bucks County commercial refrigerator repair experts can get you back up and running in no time!
We can send one of our expert technicians out to take a look and quickly get things fixed. We won't disrupt your schedule and can service all types of commercial refrigerator units. Even the most renowned brands and most expensive units can experience issues. Instead of trying to fix things yourself or purchase an entirely new commercial refrigerator, give Mister Service a call. We are the top commercial refrigerator repair service in Bucks County and are always standing by to help you get back to what you do best.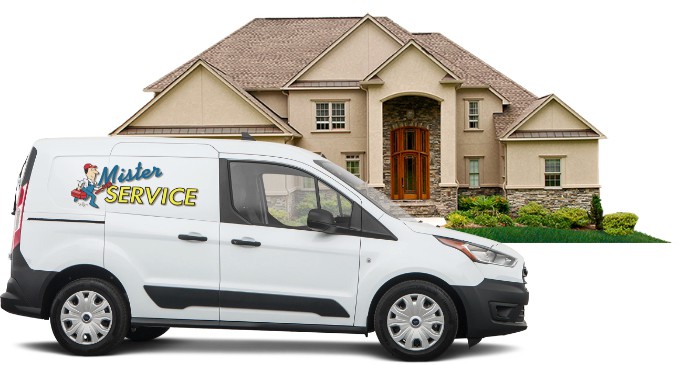 Trust Mister Service with your commercial refrigerator repairs. Contact us today!
Here are some of the main issues for commercial refrigerators that we can assist with:
Excessive frost in the freezer.Most commercial refrigerators also come stocked with a freezer. It's quite possible that a commercial refrigerator can be working fine while the freezer experiences issues. If you notice excessive frost in the freezer, it could signify that the freezer fan motor is faulty or that the defrost system is experiencing issues.
Refrigerator Not Running.Our businesses rely on commercial refrigerators to safely store food and other perishable items for our customers and clients. If you notice that the commercial refrigerator has stopped working completely, you might be having issues with the thermostat. A Mister Service technician can help you replace any parts that can help get the appliance back up and running.
Leaking water from refrigerator.This issue can be extremely frustrating and cause significant damage to the space where the commercial refrigerator is housed. It's most likely that the leak is coming from a blocked defrost drain or drain hose. Our technicians always show up to repair jobs with trucks that are fully stocked with whatever parts are needed to get the job done.
Loud or strange noises coming from the refrigerator.Commercial refrigerators are appliances that rely on compression motors and other devices. Sometimes, these parts can wear out over time. If you have noticed noises coming from your commercial refrigerator that don't seem to be normal, give Mister Service a call right away.
Fresh food compartments filled with fluid.The fresh food compartments of a commercial refrigerator are designed to keep their contents super fresh. If you notice that these compartments are filled with fluid, you could be dealing with damaged seals.
No commercial refrigerator issue is too big for our team. We bring over 20 years of experience to all our work. Don't let your commercial appliance woes interrupt your business. If you are seeking the best commercial refrigerator repair service in Bucks County, look no further than Mister Service.