Local Trusted Freezer Repair
Freezer repair serving Langhorne, Fairless Hills, Yardley, Newtown, Horsham, Warminster, Abington & surrounding areas
Freezer Repair Service Bucks County
Is freezer-burn a common occurrence for you? Has your frozen food lost its freeze? Do you hear your freezer making sounds that don't seem to be normal? These are issues that can get expensive for us quickly. That's why calling Mister Service for freezer repair service in Bucks County for an experienced technician can provide so much value.
The freezer is the perfect appliance for helping us save the cooking we have worked hard to prepare and preserve our food over the long term. It's a staple in any kitchen that helps us save money and waste less. It makes our lives a lot more convenient at home, which is why when our freezers aren't working, we need it fixed fast.
If we are trying to prepare food for our family or friends, realizing that our freezer is broken can be a dire emergency. We rely on freezers to store the food and items that provide sustenance for our loved ones, so it can be quite stressful when it's not working the way that we want. The last thing we want is our family or friends getting sick due to a freezer that's not working properly.
To have your freezer professionally repaired as soon as possible, contact Mister Service. Our team of appliance specialists will repair all major brands of freezers in an extremely efficient way. We provide our pricing upfront to avoid any unwelcome surprises or fees and can provide service based on your schedule.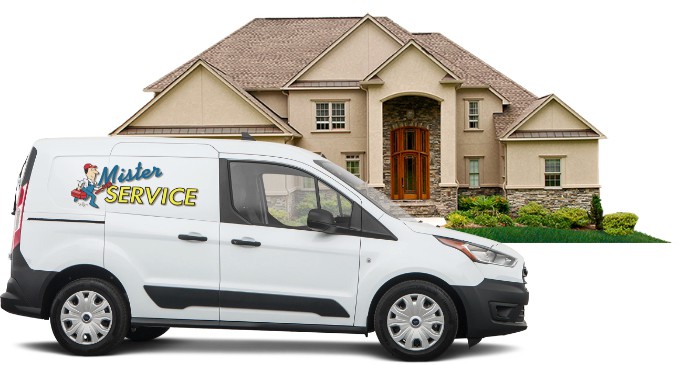 Is your freezer in need of repair? Call us to schedule a technician visit!
No job is too difficult for our team of seasoned appliance repair experts. Our Bucks County freezer repair service is unparalleled. Here are some of the most common issues with a freezer:
The freezer simply isn't cooling. This can happen for a variety of reasons, like leaving the door open too long or having door seals that have been damaged. You can count on our technicians diagnosing the problem and getting the freezer back to its full cooling capacity.
The freezer is over cooling. This is an issue that can turn your food into an icy mess. Keep an eye out for frost on your pipes and call Mister Service immediately if it seems like something isn't right.
The freezer's door seals aren't working right. This problem can potentially cause you to have sky high electric bills since the freezer will be constantly trying to compensate for the damaged seal.
The freezer won't turn on. If the freezer seemingly is plugged in and should be working but won't turn on, we can take a look and assess the damage. This issue doesn't necessarily require you to purchase an entirely new freezer.
The freezer is making strange noises. This issue might mean that the freezer engine is damaged or in need of repair.
The freezer isn't staying at a consistent temperature. Constant temperature fluctuations can be occurring for a variety of different reasons. Our technicians will find the reason why and get your freezer back to normal in no time.
Freezer problems can leave you feeling ice cold. Contact Mister Service today to have one of our experienced technicians take a look at your freezer and determine how to fix it. We provide the absolute best freezer repair service in Bucks County.