Trust the Dishwasher Repair Experts
Dishwasher repair serving Langhorne, Fairless Hills, Yardley, Newtown, Horsham, Warminster, Abington & surrounding areas
Dishwasher Repair Service in Bucks County
We use our dishwashers pretty much every single day to keep our plates clean and make our lives easier. It's an essential appliance for every kitchen and truly provides convenience in our homes. That being said, when our dishwashers break down or start having problems while they are running, it can become a big headache to deal with. Instead of resorting to hand washing dishes or purchasing a new dishwasher and replacing the broken one, reach out to Mister Service's dishwasher repair serving Bucks County. We can come to take a look at exactly what is causing your dishwasher to have problems and find a way to fix it. One call to Mister Service can end up saving you tons of money.
There are tons of different problems that dishwashers can run into. They are appliances that constantly have water run in and out of pipes and tubes, which means their parts can break down over time. The good news is that we can provide the best dishwasher repair service in Bucks County and surrounding areas and can promptly provide you with an expert in appliance repair that can figure out exactly what is wrong with your dishwasher in no time at all.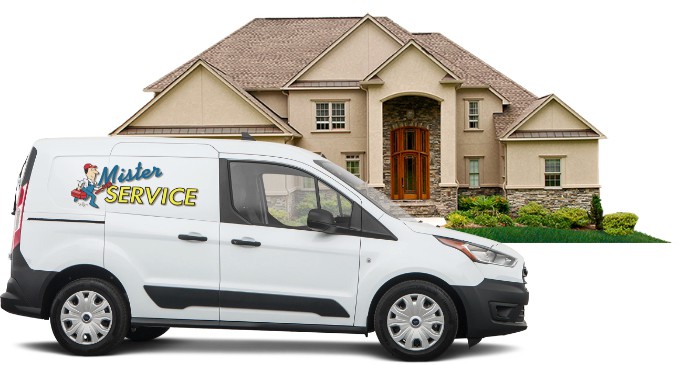 Having issues with your dishwasher? Email or call us today!
Some of the most common brands that Mister Service can repair include:
GE
Whirlpool
KitchenAid
Bosch
Maytag
Even the highest quality dishwashers can run into issues due to extensive use. These are some of the most common dishwasher related issues to look out for:
Dishes are not getting clean enough.This is a frustrating issue to experience, because the dishwasher is not accomplishing its main purpose. If you notice that your dishes never seem to be clean enough after a full wash cycle, it might be due to worn pumps, broken heating elements, or a blockage. Mister Service can help your dishwasher work like new again.
Cloudiness in Glassware.Sometimes, we put our dishes through a wash cycle only to notice later on that the glassware has a cloudy film. Remember to give all glassware and dishes a brief rinse prior to putting them in the dishwasher. If the problem still persists, the water might require a softener.
Dishwasher is not filling with water.Water is an absolutely crucial component for all dishwashers. If your dishwasher simply isn't filling up with water, it could be related to valves, timers, or malfunctioning overflow float switches. The best way to determine the root cause of this issue is to contact Mister Service and have one of their expert technicians take a look.
Leaking Dishwashers.This is a problem that can turn your kitchen into a water damaged mess if it is not properly addressed. The last thing we want is water leaking onto our hardwood floors or causing mildew on our carpet. A Mister Service technician can help you figure out what the cause of the leak is and get your dishwasher back to normal as soon as possible.
It can also be a great idea to schedule routine maintenance on your dishwasher to prevent more severe problems from ever happening. That way, you can prolong the life of your valued appliance and avoid running into expensive consequences. Hire the best dishwasher repair service in Bucks County with Mister Service.