We Fix Any Brand Any Model
Washing machine repair serving Langhorne, Fairless Hills, Yardley, Newtown, Horsham, Warminster, Abington & surrounding areas
Washing Machine Repair Service in Bucks County
We use our washing machines so frequently in our homes that they are almost like a part of our family. That's why whenever a family member is not feeling well or needs our help, we want to hire the best. Mister Service is the answer if you are looking for the best washing machine repair service in Bucks County.
Washing machines allow us to put our dirty clothes in, set it, and forget it. It's a convenience that we sometimes take for granted, that is until something goes wrong. If you've noticed that your washing machine isn't working to its full capacity or think that it might be in need of repair, Mister Service is the solution.
We have over 20 years of experience in fixing appliances and bring a professional and courteous approach to every single one of our jobs. We know it can be a lot to handle having someone come into your house to fix an appliance that's on the mend, but rest assured that our technicians are extremely friendly and respectful.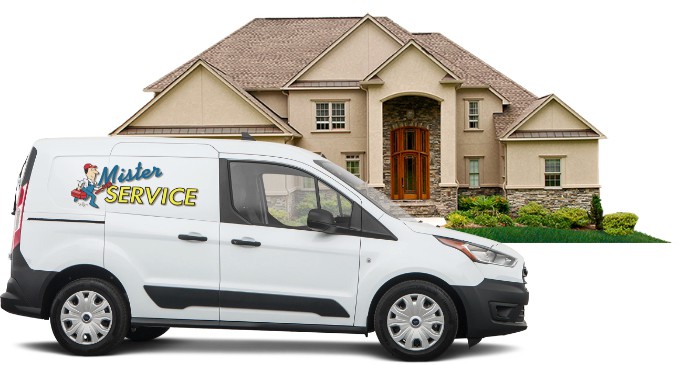 Having issues with your washer? Call today!
Reach out to our expert appliance repair team if you notice the following:
Washing Machine is vibrating excessively. This issue can become a literal headache and disturb the peace in your home. It is likely caused by improper leveling or worn pads at the bottom of the machine, but it's certainly worth it to have a technician come and take a look.
Washing Machine is dead or simply won't start. Washing machines are designed to make our lives easier. Simply put the clothes in, add soap, and push a button. If your washing machine is dead or won't start at all, you might have problems with timer circuitry or an off-balance switch. Give Mister Service a call to come take a look.
Clothes are soaking wet at the end of the cycle. Typically, after a wash cycle, the clothes have gone through a spin cycle that removes a lot of the water. If you notice that your clothes are completely soaked after a cycle, you could be dealing with damaged wires or a broken drive belt.
Leaking washing machine. Leaks can cause significant damage to your house and prevent the washing machine from properly cleaning the clothes or contents within. Things like loose hoses, leaking pumps, and excess soap can all cause a leaking washing machine. Instead of trying to fix a leaking washing machine yourself, it makes a lot of sense to call a Mister Service technician to take a look.
Soapy Clothes after a wash cycle. It can be very frustrating to wash your clothes only to find that they are still soapy after the wash cycle. This could mean that the water valve is clogged with sediment or that the timer is defective. Whatever the case may be, Mister Service can take care of it.
There are so many things that can be causing your washing machine to not be working to its full potential. Reach out to Mister Service to determine what specifically is wrong with your washer and get back to consistently clean clothes. We are the best washing machine repair service in Bucks County.