Trust the Dryer Experts
Dryer repair serving Langhorne, Fairless Hills, Yardley, Newtown, Horsham, Warminster, Abington & surrounding areas
Dryer Repair Service in Bucks County
The laundry room is a crucial part of our homes. We rely on its convenience to get our favorite clothing ready to wear so that we can conquer the week. When our dryers aren't working as well as they used to, it can be a big problem for our routines. If your dryer isn't working or seems to be broken, our Bucks County dryer repair service can help, There's no need to get stressed out or panic– simply call Mister Service to have a technician come out and fix the problem.
We are the best dryer repair service in Bucks County and will work hard to get your dryer back up and running in the shortest amount of time. We bring over 20 years of experience to every one of our jobs and can work around your schedule. There is no repair job that is too difficult for our team of experts.
We can repair both electric and gas dryers. Electric dryers tend to be less expensive when your initially make the purchase and are quite simple to install. Gas dryers can end up being more expensive up front but end up saving you money in the long run thanks to lower utility costs. Whether you need repairs on an electric dryer or a gas dryer, you can always rely on Mister Service to get the job done.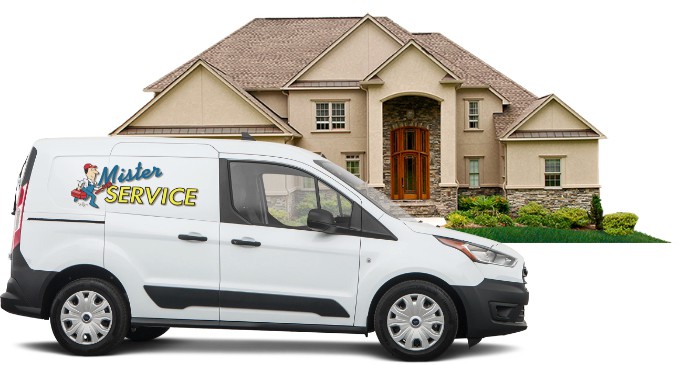 Here are the most common dryer issues that Mister Service sees and that you should be on the lookout for:
Dryer not heating up enough. For a dryer to function well, it needs to get to a certain heat level. If your dryer is not heating up enough, it could be due to a faulty temperature switch, bad thermostat, or broken fuse. Contact Mister Service to figure out what the exact problem is.
Dryer not running. If you can't even get your dryer to start, you know that something isn't right. It might simply be unplugged or have circuit breaker issues. There are several other issues that might be causing it to not start, but the only way to know for sure is to schedule the expert Bucks County dryer repair service to diagnose your dryer.
Dryer won't spin. Pretty much all dryers use a spin function to remove excess moisture and quickly dry out your clothes. If your dryer isn't spinning, it's not going to get the job done. A broken roller or motor could be causing this specific issue.
Dryer getting too hot. If you notice that your dryer is getting much hotter than normal, call Mister Service right away. This can be a dangerous problem and should be dealt with as quickly as possible.
By calling Mister Service, you can get your dryer back to working order in no time. Avoid high electric bills and potential safety issues by contacting the best dryer repair service in Bucks County. We want to help you get back to your normal routine and avoid having to deal with extended periods of time without this truly convenient appliance.