Let Our Experts Customize a Repair Solution For You
Residential appliance repair serving Langhorne, Fairless Hills, Yardley, Newtown, Horsham, Warminster, Abington & surrounding areas
Appliance Repair Bucks County
We all know how frustrating it can be to deal with broken appliances. These are the devices that we rely on every day of our lives, so when one of them is out of commission, it seriously impacts our quality of life at home or at work. Being an experienced Bucks County appliance repair company, we understand how difficult life can be when one of your major appliances is out of commission.
It doesn't matter if you have had the appliance at home for years or if it is brand new, finding out that something needs to be fixed is always an unpleasant surprise. For over 20 years, we have been assisting our valued customers with appliance repair service in Levittown so that they can get back to enjoying their home life or start working again. You can rest assured that we will fix your appliance in a short amount of time at a fair price. That's the Mister Service advantage.
We understand that a broken appliance can become a massive inconvenience, especially if you don't hire the right technicians. Our team members are always professional, punctual, and courteous. The last thing you want is an unprofessional service team tracking dirt into your house or workspace and adding more stress to an already stressful situation.
You can always rest assured that our professional team will arrive in a truck that is fully stocked with factory parts so that they can get the job done quickly. Everyone at Mister Service is passionate about what they do, which means they take pride in solving all appliance related issues.
We can handle all your major appliance repair needs. You can always trust us to explain exactly what the issue is, what will need to be done to fix it, how much it will cost, and how long it will take prior to beginning our work.
Mister Service understands that having someone come into your home can be overwhelming. That's why we always respect your wishes and work hard to fix appliances in as little time as possible. Our team members bring efficiency and expertise to every job. We always provide honest pricing and never put our customers through hidden service fees and gimmicks. You can expect to receive an itemized invoice in a simple to understand format that provides a full breakdown of our pricing.
No surprises. No confusion. Simply great service at a great price.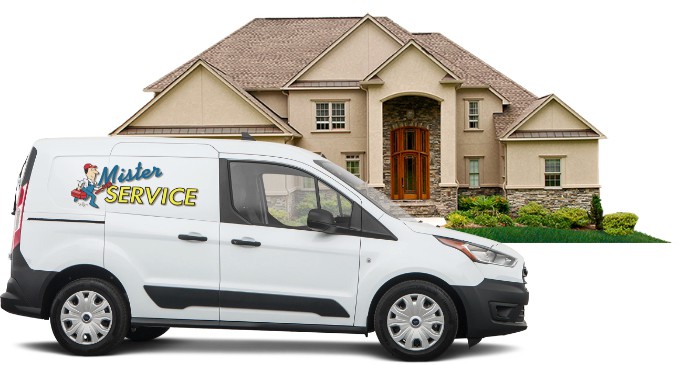 Trust Mister Service with all of your appliance repair needs. Call us now!
Mister Service offers appliance repair service in Bucks County for the following:
If you are dealing with an appliance that is in need of repairs, contact Mister Service today to schedule an appointment with one of our expert technicians. Our team will quickly help you get your appliance back in working order. We can work around your personal schedule and help you get back to doing what you do best with minimal effort on your end. We provide the absolute best appliance repair service in Bucks County to help get your appliances back on track as soon as possible.